Finn Wolfhard and Billy Bryk were tired of the garbled Gen Z stereotypes plastered about modern Hollywood — so, they created their own narrative in "Hell of a Summer."
"Our number one conversation was how annoying it is to see new teen movies and how badly our age group is represented," says Wolfhard. "And we're like, 'Why don't we just do it?'" And so they did.
Premiering at the Toronto International Film Festival Sept. 10, "Hell of a Summer" serves as both Wolfhard and Bryk's feature directorial debuts (Bryk says it's a "dream come true" to have the film premiere at Toronto). However, the two actors didn't just co-direct the film — they also starred in and wrote the feature.
The film extends the duo's portfolio of joint projects, having previously co-starred in "Ghostbusters: Afterlife" and "When You Finish Saving the World." What's the secret to their synergetic success? "We're friends first," reveals Wolfhard. "It feels like this film is a visual representation of our friendship in so many ways," adds Bryk.
Bryk says the film is "the result of our shared sensibilities," recalling that the plot of "Hell of a Summer" came together with a shared concept for a slasher comedy. "I'd written this scene for this idea of a character who published a kill list at a sleepaway camp," with its ranking being determined by "hotness and popularity."
Bryk's proposal incorporated a sense of irony in the notion that the exclusivity of the list angered fellow campers who hadn't been ranked high. "I told Finn [about it] in passing, and he's like, 'Dude, I wrote the exact same scene,'" continued Bryk. "That became the basis of like, alright, we should do something with that."
Wolfhard and Bryk agree that Edgar Wright's 2004 horror "Shaun of the Dead" was a "huge" inspiration for their own film. "To us, that was kind of the epitome of a film that does homage to classic horror films while also being a really great character-driven comedy," says Bryk.
"Specifically in 'Shaun of the Dead,' Shaun's just trying to get his girlfriend back. He actually doesn't care about the zombie apocalypse, like at all," Wolfhard explains. "So I would say that this is a movie where people are given full license to be weird and narcissistic in the face of death," adds Bryk.
Their idea was to take "this world of horror, which is very iconic, and also [create a] good teen comedy [defined by] good teen characters."
"I think that [Gen Z is] so often written and represented by people not of the generation," says Bryk. "We both [have] read a million scripts where it's like you're reading what somebody else thinks a young person speaks or acts like, and I think that often can be very two-dimensional or cliche."
Will Wolfhard and Bryk merge their modern point of view in future projects? "I imagine that we'll still be working together," Bryk offers. "We have the same exact tastes and movies and things, so I don't think we'll ever go too far away."
"We're pretty interlinked," Wolfhard adds in celebration of their co-directorial debut.
The Aubreys are doing it for themselves
With their new track 'Kato', THE AUBREYS aren't making music for anyone but themselves. Finn Wolfhard explains it's all about the move of the music.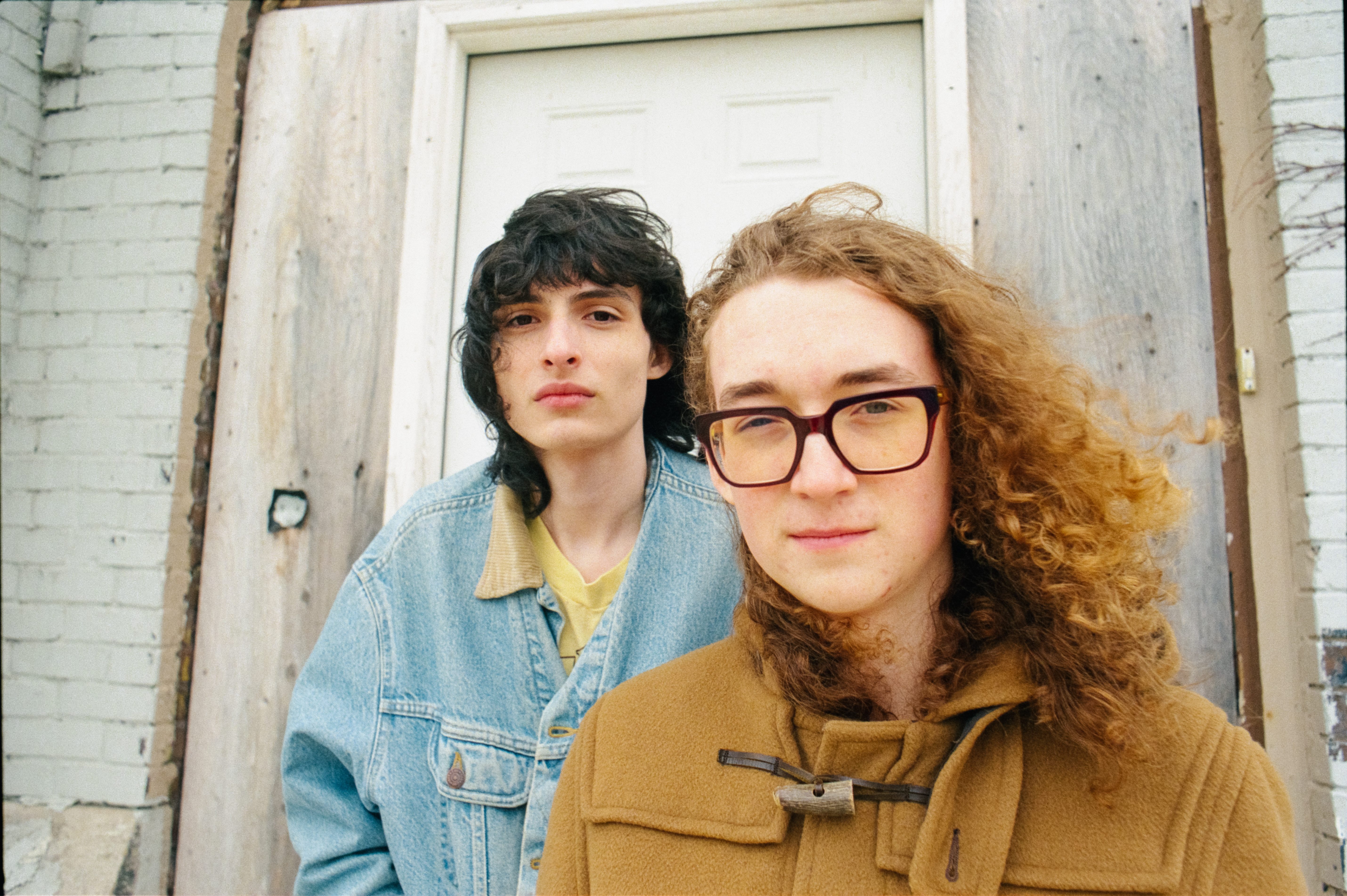 "If I wanted another avenue of fame, I'd try and sign to a major label, put out a pop record and tour it around," explains Finn Wolfhard. You probably know him from Netflix's love letter to the 80s Stranger Things, the terrifying remake of It, or the rebooted Ghostbusters: Afterlife. The return of his indie-rock band The Aubreys? "It's just for the love of doing it."
Finn's first foray into music was with alternative rock band Calpurnia, which was formed in 2017 before releasing debut EP 'Scout' in 2018. The four-piece toured extensively, released a bunch of covers and starred as a young Weezer in the video for their A-Ha cover 'Take On Me', but things quickly became less about the music and more about the money. The band broke up in 2019, but it wasn't long before Finn and Calpurnia drummer Malcolm Craig started playing together again.
"It just felt really good to not play music for anyone else," he explains, with The Aubreys staying independent to release a string of singles ahead of 2021's debut album 'Karaoke Alone'. "It's been really free, and we've just had a good time. It's been really liberating to do it for ourselves."
A couple of weeks ago, The Aubreys returned with their first new music in over two years and today, they've shared a 3D video for the reflective 'Kato'. Directed by their friend Marcus Jordan, the Fantastic Planet-inspired video leans into the fantastical, fairytale feel of the track.
"Since the first album, I feel like both me and Malcolm have done a lot of living and growing," Finn tells Dork from his home in Vancouver. They decided to come back with 'Kato' because the vulnerable track does the best job of explaining how the past few years have been.
"A lot of it is about growing up, thinking that you have it all figured out and then it blowing up in your face," says Finn, though it was also inspired by the impending end of Stranger Things, a show Finn's been involved with for the past eight years. 'Kato' taps into those feelings of uncertainty and change.
"There's a lot of not knowing. I've spent a lot of my life on that set, so it'll be crazy to see what happens after," Finn starts. "I still want to keep acting, but there are lots of questions about what music is going to feel like afterwards. I'll have more time to do stuff like record an album or tour, which is nuts," he grins. He's excited to get back to work but isn't thinking about the end too much. "I don't want to have another existential crisis," he explains.
Despite the very specific starting point, 'Kato' captures a "generational feeling," says Finn. "Being 20 is incredibly fun, and you have an insane amount of confidence, but it's also the first time you start asking yourself all the existential dread questions. This song was a deep dive into that."
For a little while, Finn wasn't sure he wanted to release 'Kato' because it felt so revealing. Soon those nerves gave way to excitement, though. "It's liberating to release something that's so personal, but I try not to think about how vulnerable it is as a way to protect myself," he explains, though adds that none of the songs he writes are 100% true. "That just wouldn't be as fun."
Pulling from the worlds of quiet alt-rock and folk, Finn lists Alex G, Sufjan Stevens and Sparklehorse as the biggest inspirations for the song. It's seemingly a world away from the raucous punk of PUP that first inspired Finn's rock star dreams after he starred in two music videos for the Canadian group. "That was my first window into indie-rock and alternative music," he explains, having previously been really into classic rock. "The reason I love PUP so much is because their songs are so melodic and intimate. They're relentless and chaotic, but they're really catchy as well." He says that sense of melody is still a driving factor behind everything he writes.
The Aubreys have always twisted melancholy around pretty music, but 'Kato' is deliberately positive. After flicking through moments of dread and anxiety, Finn sings: "Maybe I'll just have to be okay".
"Some of my favourite songs are sweet and sad but have that message of hope," he starts. "That's important 'cos otherwise you just end up feeling lost. Obviously, no one has the answers to being truly happy and comfortable in your own skin, but it's more about being okay with not knowing."
Sure, Finn has days where he listens to gnarly emo, but he knows that optimism in music feels more important than ever nowadays. "There seems to be this extra pressure that's put on my generation and the generations that follow. I don't know exactly where it's come from, but mental health issues are at an all-time high, so it felt important to make something that is relatable but also offers that glimmer of hope."
'Kato' is a "toe in the water" for The Aubreys in terms of releasing more vulnerable music and just generally being a band again. They have a lot more written, with the new stuff seeing the band "not being afraid to really lean into the weird sounds" with the pair experimenting with synths and production. "'Kato' was the first track we mixed and produced on our own. We've learned a lot over the past couple of years, and we want to take advantage of that."
The pair are also working on solo side projects. "Malcolm is writing these incredible, sweeping electronic arrangements, and I'm writing a lot of folky stuff that isn't a world away from what I'm doing with The Aubreys." The pair typically met up in the studio with a demo and straight away knew if it would make a good track for The Aubreys. "Whether it's for this project or something else, it's great to be making music together again," says Finn.
Right now, The Aubreys is driven by a sense of freedom and doing what feels right, which is a world away from how Finn felt while he was with Calpurnia. Back then, he was driven by a desire to prove himself to people. Not easy when a lot of those early shows were full of kids shouting Stranger Things references at him. "I was really focused on trying to show people that I was a serious musician," he explains, wrestling with imposter syndrome at the same time. "But if you're focused on being a serious person, making serious music and telling people about all the hard work you've done, where's the fun?" he asks. Instead, The Aubreys is "all about the music and less about impressing people".
Later this year, The Aubreys have plans to play some small shows in Vancouver, which will act as another toe back in the water of being a band. "We have ambitions to play more shows, and we've got a bunch of ideas about new music," says Finn.
He can't talk about any of his upcoming acting projects due to the strike but does say that music gives him a sense of "control" that his day job doesn't. "I'm able to express myself exactly how I want to," he continues. "I'm lucky to have a few outlets, but there's just something very personal about music. I've always loved that time to reflect. I love the tribe of people I've met. I don't really see a world in which music isn't a part of my life."